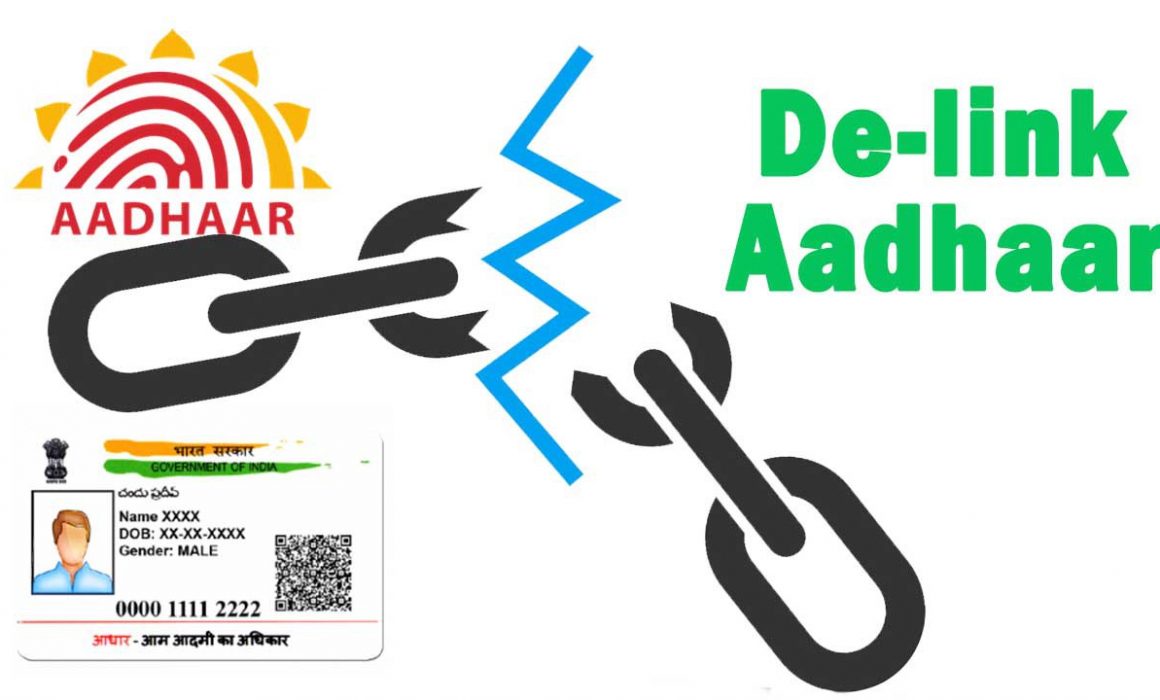 How to Delink Aadhaar from Bank, Mobile and Digital Wallet?
How to Delink Aadhaar from Bank, Mobile, and Digital Wallet? On September 26th,2018, Supreme Court in a landmark verdict ruled that Aadhaar would not be needed for opening bank accounts, for getting mobile phone connections, investing in Mutual Funds, while buying Life Insurance, or admission to schools.
How to Delink Aadhaar from Bank?
Before proceeding to delink Aadhaar from Bank, first, make sure that your Bank Account is not linked for any DBT (Direct Benefit Transfer). If you delink the Aadhaar with the bank which is linked for DBT (like Gas subsidy), then you may not receive the DBT money in your account. Hence, try to delink Aadhaar from bank cautiously.
As of now, there is no such process mentioned either by UIDAI or Banks regarding the delinking of Aadhaar with Bank. Hence, you have to personally visit the bank branch. Give the request to delink the Aadhaar from Bank. They may ask you the photocopy of the Aadhaar. Provide the same and delink it. I will explain you the same in below steps.
Visit your bank branch
Ask the customer service to give you a physical form to delink Aadhaar.
Submit the form.
 Your Aadhaar will be delinked with 48 hours.
Call your bank to find out if it has been delinked or not.
How to Delink Aadhaar from Mobile Service Provider?
Here also, mobile service providers not set any process as of now. Hence, you have to call their customer care number and request for delinking. You may be asked to send an e-mail with a request to de-link your Aadhaar details.
Once you send it, then they will send you the confirmed message of delinking Aadhaar. As of now, they have not set any standard process. But down the line, they will surely set up a process to streamline of delinking Aadhaar.
The biggest issue is with Jio. Because this provider as of issued SIMs based on eKYC using Aadhaar Card only. Hence, I am not sure how in the future they implement the KYC process.
How to Delink Aadhaar from Digital Wallet?
As of now, after the Supreme Court verdict, the digital wallet companies like Paytm and PhonePe, and others like MobiKwik are likely to remove the option of linking Aadhaar with their wallet. However, I will suggest you to follow these below steps.
Ask them to send you an e-mail to delink your Aadhaar by calling their customer care numbers.
You will then receive an e-mail, which will ask you to attach a clear softcopy of your Aadhaar.
Once you send an email, then they will reply to you saying that your Aadhaar will be delinked within 72 hours (depends again on the company procedure).
After the set deadline, cross checks whether your Aadhaar is delinked or not.
This judgment cost heavily on these digital wallet companies as they had invested on agents to help users get their e-KYC done. They have tied up with third-party companies, who were enabling door-step eKYC of users who weren't keen on going to a store to get it done.
Overall the process is to be streamlined by Banks, Mobile service providers and also the Digital Wallet companies to streamline the delinking of Aadhar.